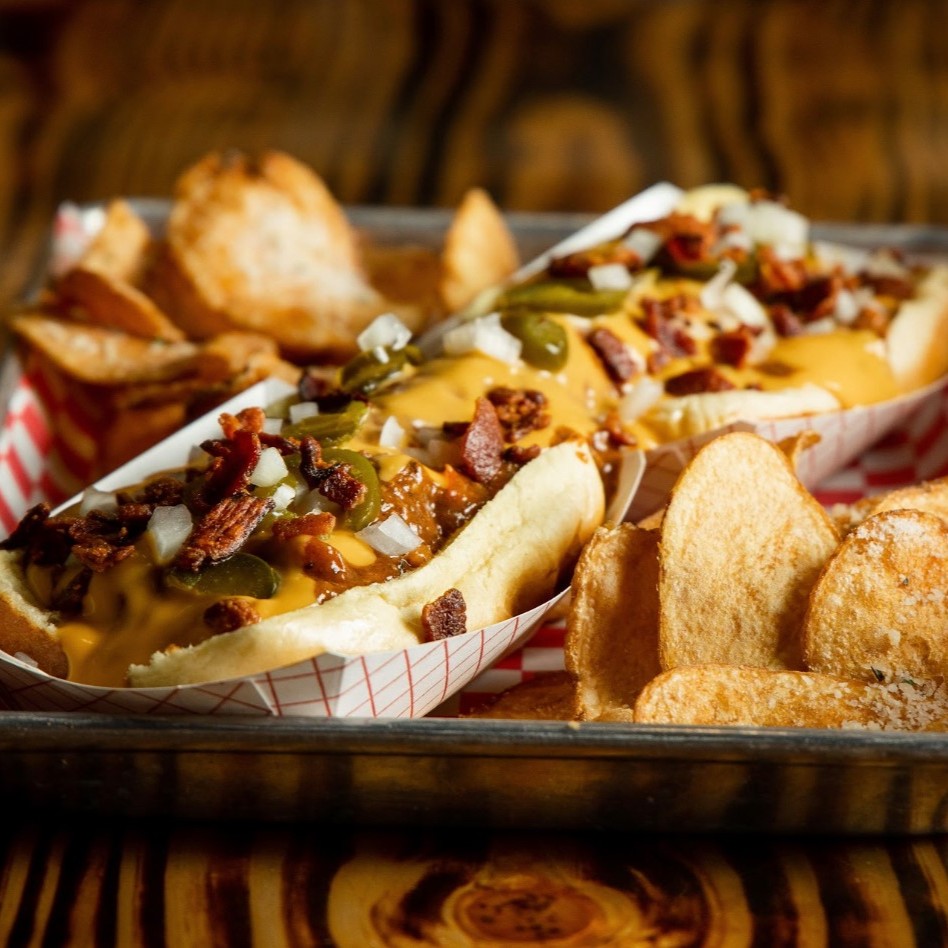 The Angry Elephant College Station is a politically themed bar and grill located in South College Station, Texas. The establishment was created as a place "where gentlemen can agree or agree to disagree" and is well known for its liberal cocktails at conservative prices and the best hot dogs in all of Texas. The motto of the Angry Elephant is "Like Your Politics, Love Your Bar," and every political event is shown on their TVs with sound, including American debates and elections at all government levels.
The hot dog menu at the Angry Elephant is especially noteworthy, featuring options like The Beto O'Rourke Mexico Dog, The FDR All American Dog, and The LBJ Chili Cheese Texas Works Dog. All hot dogs are made with an Eisenberg gourmet beef frank and served on a steamed Kaiser bun, elevating them above average street food. The flavors in each hot dog are full and well balanced, making them a must-try for hot dog lovers.
For those looking for something lighter, the Angry Elephant Bryan offers a range of healthy salad options, including the Spicy Caesar Salad, Ahi Tuna Salad, and Chop Salad. Each salad is made with fresh, high-quality ingredients and served with a house-made dressing that adds an extra layer of flavor.
The burger and sandwich menu at the Angry Elephant Bryan is also top-notch. Options include The Ronald Reagan Burger, The Pacifist Sandwich, and The Chuck Norris "Who You Calling Chicken" Chicken Sandwich. Each sandwich is made with care and packed with flavor, making it a great choice for lunch or dinner. In addition to its main menu items, the Angry Elephant Bryan offers a number of delicious sides and appetizers, including Triple Fried Wings, Communist-Cheese and Sausage Plate, Lonestar Meat and Cheese Plate, Al Gore Frito Pie, and Loaded Nachos.
The Angry Elephant College Station focuses on building specialty cocktails and features one of the best liquor selections in town. Their menu staple, gourmet hot dogs flown in from Chicago, are topped with a variety of options. The bar and grill is the premier spot in South College Station for adults looking to unwind after a long day at work and is open seven days a week starting at 11 a.m. serving lunch, dinner and late night snacks.
In conclusion, the Angry Elephant College Station offers a unique and enjoyable dining experience with its politically themed menu, high-quality food, and great drink options. Whether you are looking for a hot dog, salad, burger, or cocktail, the Angry Elephant College Station has something for everyone.
Visit www.bcs-deals.com for all of their specials and for exclusive coupons!
Hours of Operation
| | |
| --- | --- |
| Mon | 11:00 AM – 12:00 AM (Next day) |
| Tue | 11:00 AM – 12:00 AM (Next day) |
| Wed | 11:00 AM – 12:00 AM (Next day) |
| Thu | 11:00 AM – 12:00 AM (Next day) |
| Fri | 11:00 AM – 2:00 AM (Next day) |
| Sat | 11:00 AM – 2:00 AM (Next day) |
| Sun | 11:00 AM – 12:00 AM (Next day) |
Click the links below for events happening nearby today; or visit www.bcs-calendar.com for all the events and happenings near you!